Fred Camper art
Complete Fred Camper art
---
This is the announcement of my building's most recent open studios event. If you want to see my work in more depth than possible on the open studios weekend, or at a different time, please write me to schedule a studio visit. Fred Camper
---
ARTISTS OF EAST BANK OPEN STUDIO WALK
See the work by and tour the studios of 23 diverse Chicago area artists, including painters, sculptors, ceramists, jewelry makers, photographers, and printmakers, who have studios in the East Bank Building.
On Friday May 15th 6-10 p.m., and Saturday May 16th 12-6 p.m. The Artists of East Bank will present an Open Studio Art Walk at the historic East Bank Building at 1200 W. 35th Street Chicago, Illinois 60609. Artists' studios will be open in the basement, 3rd, and 4th floors. Entrance and free parking is on the north side of the building. This event is free. Artwork is for sale and the artists are available for commissions.
Open Studios Art Walk is a chance to meet the artists in their studios, ask questions and experience the inter-workings of individual artist or artisanís studio practice. As a collective, the East Bank Artists represent a diverse example of human expression.
Virtually all my work will be available for viewing; I will be hanging some very new Figments that are not yet on my site, except for the three samples here: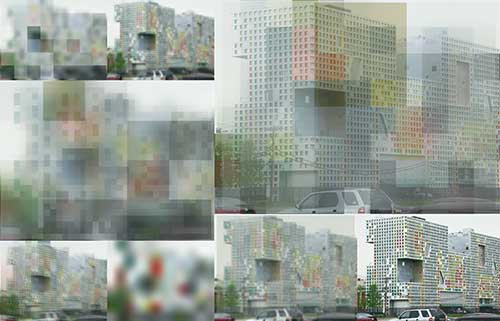 Figments 10: Simmons Hall, 9, 7.1, by Fred Camper Figments 10: Simmons Hall, 9, Supers 8.1, by Fred Camper
Archival ink on archival paper, 36.9 X 30.6 in. w/3-in. border Archival ink on archival paper, 33.5 X 48.8 inches including a 3-inch border
Participating artists:
Jens Brasch
Brock Brockington
Fred Camper
Betty Cleeland
Cesar Conde
Luis DeLa Torre
Tony Di Domenico
Lora Delestowicz-Wierbowski
Judithe Hernandez
Gina Hutchings
Hal Link
Sofia Moreno
Yva Neal
Connie Noyes
Julia Rosa
Marci Rubin
Ivan Sagel
Damon Sherman
Jay Strommen
Basia Toczydlowska
Christian Villacres
Julian Williams
Monika Wulfers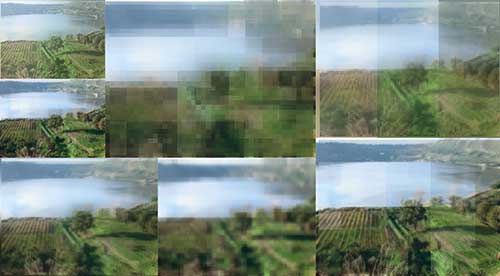 Figments 7: Near Naples, 1, Supers 9.1, by Fred Camper
Archival ink on archival paper, 29.9 X 49.1 inches including a 3-inch border
Location: 1200 West 35th Street, Chicago; the entrance is on the West side of Racine just north of 35th Street, into a large parking lot.
May 15 6-10 PM and May 16 12-6 PM. Phone for more information: 773-247-3000.
---
Fred Camper art Complete Fred Camper art