Home Film My Art Art Other: (Travel, Rants, Obits) Links About Contact
---
This is a Web-based version, with a few corrections, of an email post to FrameWorks, an email discussion group on avant-garde film, which I made on July 22, 2002. It's an informal letter meant to let others know about works that may interest them, and does not purport be a considered piece of criticism. Fred Camper
---
Two Video Installations by Ernie Gehr

by Fred Camper
I am writing this to alert members of FrameWorks to two Ernie Gehr video installations in the lobby of the Modern Art, New York, which is now exhibiting art only at a temporary building in the borough of Queens while its Manhattan building is closed for renovations and expansion until 2005.
There is a tiny picture of one of the works along with its title on the MoMA Web site, but if there's any more significant information on these Gehr installations at the MoMA site, I can't find it; if you know of any, please email me the url and I will add it. Most people I've spoken with don't even know these works exist.
The two installations are in the lobby, along with several others by other artists. They're also not identified very prominently, though the information desk should be able to point you to them, and they will be easy to find from my descriptions below. I went on the first Sunday that the new building was open, June 30, 2002. There was an enormous line to get in: I had to wait about half an hour, but by the time I left, in mid-afternoon, the line had grown much longer, and the wait would likely have been over an hour. The one Mister Softee truck adjacent to this line was doing a land-office business on that hot sunny day. On weekdays the lines are probably not nearly as long, and maybe this crowd was so large because it was the opening weekend, but getting there early seems a good idea.
One good thing about the fact that the Gehr installations are in the lobby is that you actually don't have to pay to see them. You may have to wait in line to get in, but once you're past the doors you can just step out of the ticket line and wander over to them. (Since as a member of aica, the International Association of Art Critics, I can get into art museums free, this was not a worry for me.)
MoMA on Wheels is a single-image piece that consists of a long take of the entrance to MoMA's Manhattan museum on West 53rd Street, taken from a relatively low angle. People and cars intrude at various levels of depth, obscuring the entrance at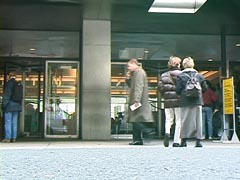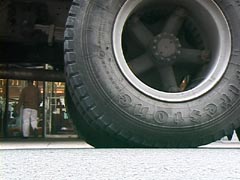 Images from MoMA on Wheels (2002), by Ernie Gehr
times, and altering the composition according to the varied rhythms of the street. It reminded me of some of Gehr's films, such as Transparency and Shift, and I liked it very much.
The other Gehr installation, Modern Navigation, is a two-screen piece that shows people looking at fish in an aquarium. It is dark and mysterious, and seemed to me to be a witty and even slightly ironic comment on museum going and art viewing in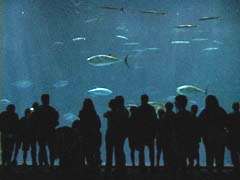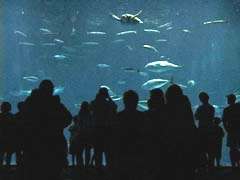 Images from Modern Navigation (2002), by Ernie Gehr
museums, which interpretation Gehr confirms was part of his intent. It's a good idea to see it from different positions, including from different upper-level locations at the top of the ramp.
Both pieces encourage a very careful observation of the movements of people and vehicles, something that was out of Gehr's control but, as anyone who has observed such things knows, isn't exactly "random" either. Both installations suggest the intrusiveness that others can have as they move through one's field of vision, something that one is especially likely to be aware of in an art museum, but that is a common phenomenon in urban environments. Their placement in a museum space, where crowds also move similarly, helps intensify one's concentration on the strange and multifarious implications of the movements of people in public spaces, a concentration that one can continue one one's own in the Museum's galleries, in which cluttered spaces it's often difficult to look at art without being aware of the presence of fellow-humans. In this sense, the work continues one of avant-garde cinema's longest running projects, the enrichment of and deepening of daily seeing.
Gehr says that the Museum has told him that the pieces will be up at least through mid-September.
I didn't care for the arrangement of the art in the MoMA's temporary home. The density with which the art is crowded together, and the presence of many works that emit sounds throughout the museum, seem to reflect the increasingly-common paradigm of the art museum as carnival or art museum as noisy funhouse. Not surprisingly, since part of the exhibition consists of selected masterpieces from their permanent collection, many very great works are on view, though some proved difficult to see because of the noise and crowds and cramped spaces. I prefer the earlier paradigm of art museum as temple, actually, because in that now old-fashioned stately silence it's easier to actually contemplate the works of art. But there are some great things on view nonetheless, including an amazing large painting by Blinky Palermo that I'd never seen before. I suppose it could be argued that it wouldn't make much sense to try to attain stately silence in a relatively small and likely inevitably crowded temporary space; I just hope the circus-tent atmosphere is not also something the Museum plans for its new permanent home.
---
Copyright © Fred Camper 2002.
---
Home Film My Art Art Other: (Travel, Rants, Obits) Links About Contact