The greatest building I saw on the whole trip was Louis Sullivan's famous National Farmers' Bank in Owatonna, Minnesota. The outside is terrific, but the inside is sublime, a cavernous single space with murals and stained-glass windows. It's pretty well preserved, with some annoying additions, such as those offices along the side walls. On the other hand, it's great to see that it still functions as a bank.
Near Clear Lake, Iowa, I stopped near the site of the famous February 3, 1959 plane crash that killed Buddy Holly and two other rock stars of the era.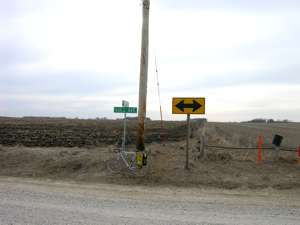 There is a memorial erected in 2003 about a half-mile in, on the exact site of the crash. I also stopped briefly at the hall in Clear Lake where Holly performed for the last time on February 2: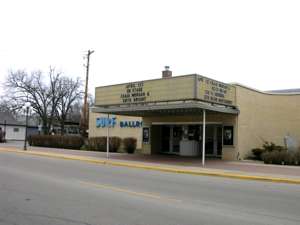 I spent an afternoon and night in Mason City, Iowa, home of two Frank Lloyd Wright buildings. There's a two-building ensemble downtown that was originally a hotel and a bank; the bank is currently being restored. It may not be Wright's greatest building, but it's very good.
The other Wright in Mason City is Stockman House, which is rather great.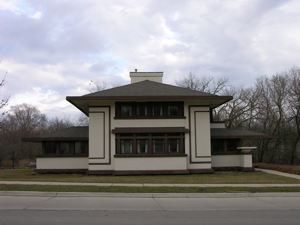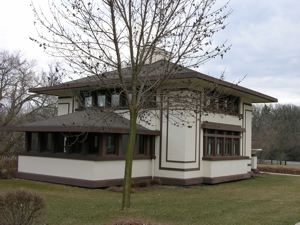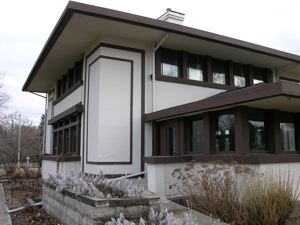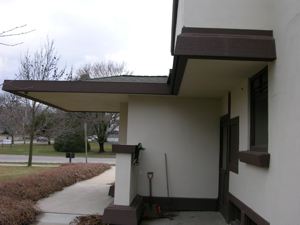 As I have found in some other parts of the Midwest, 19th-century county courthouses can be quite grand. Eldora, capital of Hardin County, has the Hardin County Courthouse:
The Marshall County Courthouse (1886), in Marshalltown, is also very good: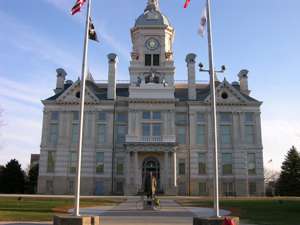 Heading south from Marshalltown to a motel along US 30, I came across the Church of the Nazarene at Center and South Streets. I have no idea who the architect was, but I quite liked it; its modernist austerity seemed rather poetic:
Of the other three Louis Sullivan buildings I visited, the best was the 1914 Merchants' National Bank in Grinnell, Iowa.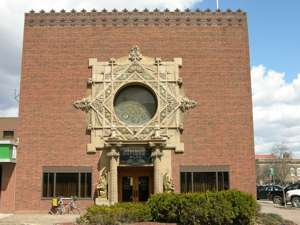 I first visited this bank on a car trip with a friend in about 1988, when it was still functioning as a bank. We drove there from Chicago, looked at the bank, and drove back. This was certainly a great trip, but the profound difference between reaching it by car and reaching it on a multi-day bike trip, which I could have guessed at in advance, was really brought home to me, as was the case with everything else I saw on this trip. I reached each of the three Sullivan banks after a long ride through farmland, land that originally funded the banks. Traveling by bicycle helps unite cause and effect: my location was always felt as a product of my own effort, and I really felt connections such as the one between the banks and the farmland. But also, reaching these banks by bicycle connects one's body, travel time, and space, locating each point on the land in relationship to the rest of the land, and to the sky.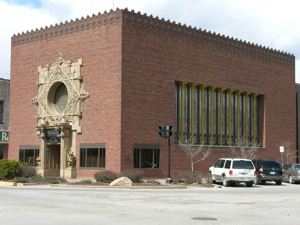 The facade has an almost orgasmic piece of ornamentation that frames a circular stained-glass window:
In both Owatonna and Grinnell, banks near the Sullivans made a gesture in its direction with arches. Unless done really well, this form of architectural contextualism can seem annoying and just plain dumb, as in Grinnell, where a fake and non-functional arch was slapped on bank building just a block or so away from the Sullivan: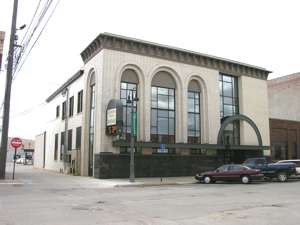 I didn't go inside that bank; the interior of the Sullivan bank was quite great enough: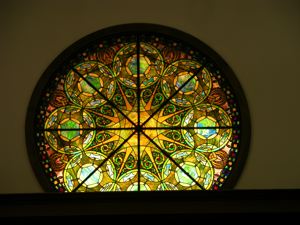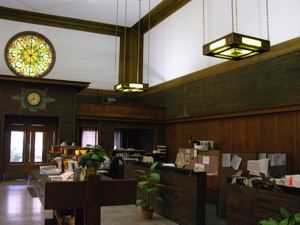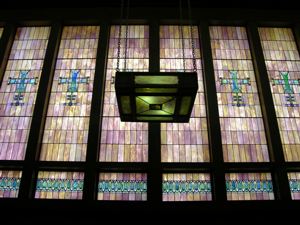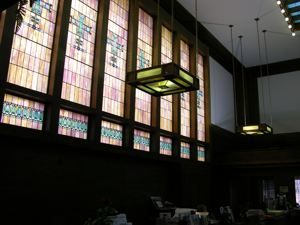 There's a bank in an adjacent new building, while this Louis Sullivan masterpiece serves as the headquarters of the local Chamber of Commerce. One of the workers inside recommended a house designed by Walter Burley Griffin six blocks north. This is the B. J. Ricker House, 1510 Broad St.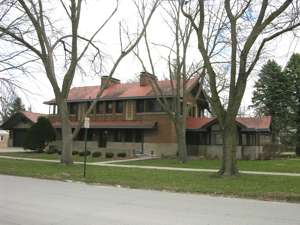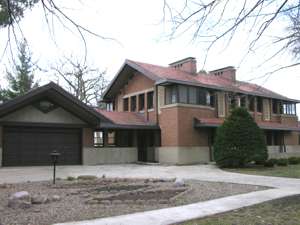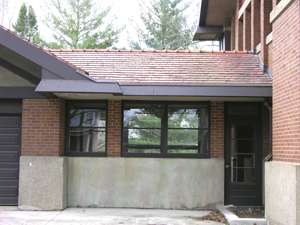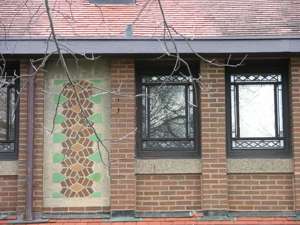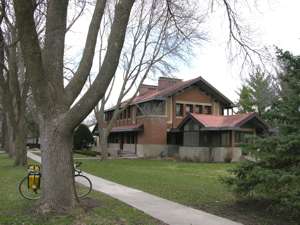 The pleasures of a trip like this are not limited to seeing great architecture. I do not know how to photograph the sky to convey the fullness of experiencing it over a day of pedaling, but there are other buildings that, while not necessarily great aesthetically, are amazing for one reason or another. I passed through the tiny town of Ladora, Iowa, which had an abandoned bank, whose abandonment was made odder for its having been built in a standard classical style, meant to imply stability and permanence. Peering through the windows was like looking into the past.
Cedar Rapids, Iowa has two Louis Sullivan buildings. The 1911 Peoples Savings Bank (now a Wells Fargo Branch) at First Avenue and Third Avenue SW is really good; it was a Saturday, though, and it was closed.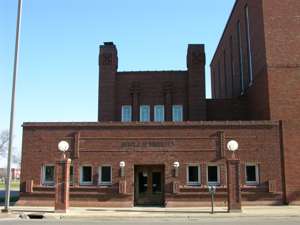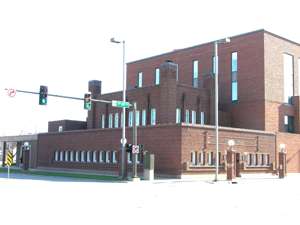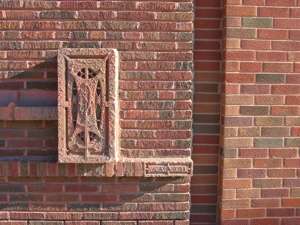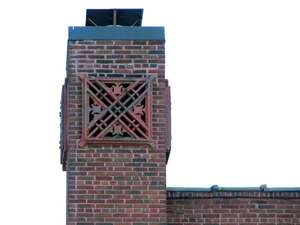 The other Sullivan in Cedar Rapids is his St. Paul's Episcopal Church (now St. Paul's United Methodist Church, 1340 3rd Ave SE) (1910-14). Sullivan's original design with extensive ornamentation proved too expensive; he was fired as architect, and his design was revised considerably. Still, based on a round sanctuary, it's quite powerful.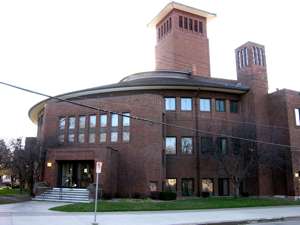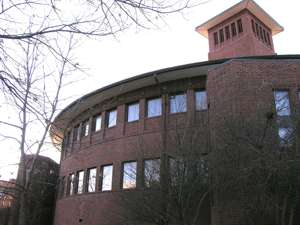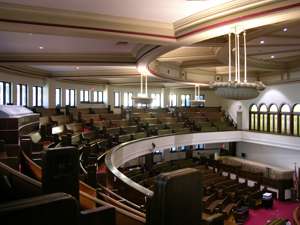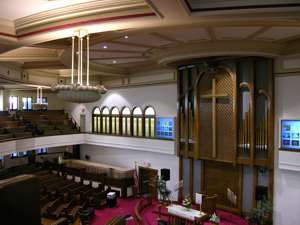 \The original stained glass windows in the sanctuary ceiling were removed in 1958 to install air conditioning, and so far have not been found. Stained glass windows do remain in the walls.
There's a major set of Indian burial mounds in East Dubuque, Illinois, the Dunleith Mound Group in Gramercy Park. They're great, but not in the way I might have thought. The park they're in is rather busy with interpretive panels, some covered over, and paths, some closed, and children's stuff. The site is on a high bluff overlooking the Mississippi, one of those sacred burial sites chosen for a certain spectacular geography. But the Mississippi is not as it was: there's a big suspension bridge, and all kinds of other stuff on the other side. So there's a disjunction between the organic and "sacred" shapes of the mounds, which would have fit well into the landscape with the river and the curves in its shore and distant hills, and the many industrial shapes, buildings and highways and oil tanks. This was stunning and disturbing, but also of great interest, the clash revealing, through their visual incompatibilities, truths about both our world and the vanished Hopewell culture of 2,000 years ago . And again, my experience of this place was intensified by having biked there — having biked, for example, across the bridge visible in the distance.
Reaching the outer limits of Chicago's suburbs about nine miles west of St. Charles and about fifty miles west of the city was a bit frightening. Those new oversized buildings seemed perfectly scaled to our oversized SUVs and the oversized citizens who drive them — and deeply out of balance with the landscape.
The closer suburbs were more familiar but no less horrible.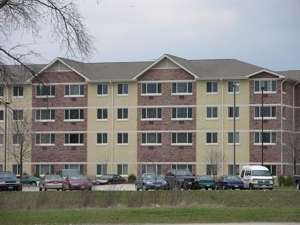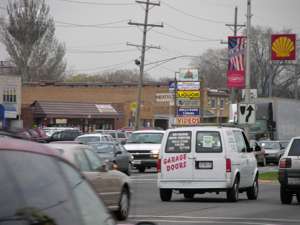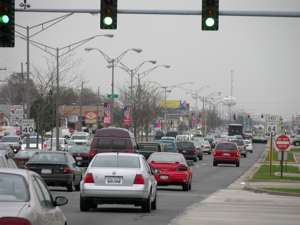 Chicago itself, which I reached at dusk, seemed comparatively humane.

Some Trip Details

[Likely of interest mostly to other bicyclists]

General details: The routes I took mostly either didn't have paved shoulders, or had very small ones. This wasn't as dangerous as it sounds, because except for some US routes and some sections near cities, they had little traffic, and cars and trucks tended to pull away from me to pass wherever possible. But there's always some risk, of course, that some blind moron could hit you.

There are definitely hills on the trip, for which I needed low gears, but there are no long climbs. If you've never biked on open prairie before, be aware that very strong headwinds can slow you down enormously. I'm no athlete and not particularly fast, doing 12-14 mph at best unless I have a strong tailwind; a severe headwind can slow me to as slow as 6 or 7 mph, and even a moderate headwind can slow me to 9 or 10 mph. A strong one feels a bit assaultive, with a tremendous noise rushing past your ears, and you have to struggle to avoid fighting it, trying to maintain a speed that doesn't exhaust you, however slow. Whatever gear I was using, I probably should have been using a lower one. On one day of 25 mph headwinds, I didn't succeed in relaxing completely, as evidenced by my numb hands at the end of the day. Yet wind is a key part of nature, and your companion while biking whatever direction it blows in, and in general adds pleasure to your ride; the trick is learning never to fight it.

Traveling alone, I stayed in motels. I offer an admiring salute to those who camp out. I carry a laptop in my backpack and a digital camera too, and need to connect to the 'Net and recharge my batteries. In larger towns I just looked for motels, but facing a sparsely populated stretch I usually searched on the 'Net in advance; google has a fine new local search tool that seems pretty comprehensive in terms of generating names of motels without the bias toward the more expensive ones of some online hotel-booking sites. Without a 'Net search I could have been stuck without a motel at sunset. Two cheap motels I can recommend have predictably small but clean rooms and free wireless broadband," the former Thriftlodge in downtown Mason City, Iowa — at the time of my visit it was renamed "Best Value Inn" — and the Mt. Morris Motel, just east of the center of Mt. Morris, Illinois. The latter motel also had a secure wireless network, something that I haven't even found in more expensive hotels, and completely free long distance calls to the U.S., Canada, and several European countries. Both were $36.00

My bicycle is a Peugeot PX-10, a true racing bike with tubing of double-butted steel, purchased in 1971. I used it for four years in Manhattan, where I lived at the time, and then didn't use it again for a bit over two decades, when I had it restored and equipped with new wheels — the sew-up tires it came with were great, but not so practical for ordinary riding. It's a wonderful bike; the frame feels "alive," flexible but not too much so. Many casual bicyclists don't realize how important the frame of a bike is; the mechanism that transfers power from your legs to forward movement, it affects the whole feel of the ride.

Minnesota: From Minneapolis I headed south toward Owatonna. The shortest route would have been Interstate 35, illegal (and way too dangerous) for bicyclists, so I had to find alternatives, which turned out to be mostly county roads. As is often the case in the presence of an Interstate, the alternative routes are rather indirect. These do have the advantage of having little traffic. From Owatonna I took Minnesota 45 to Albert Lea, and from Albert Lea US 69`to Lake Mills, Iowa.

Iowa: From Lake Mills I took county roads to Clear Lake, with a stop on the way at the Buddy Holly crash site (not so easy to find — seek out good directions first if you're interested). Iowa 122 goes from Clear Lake to Mason City, and from Mason City I rode on US 65 to US 20, with a stop in Iowa Falls for lunch and for a visit to a bike shop, which I think has my favorite bike shop name ever, the Spoken Wheel. They had what I needed, some spare tubes with Presta valves, and impressed me as a "real" bike shop in a town of about 5,000, and they're also right downtown, in the same location for 25 years. I continued on US 65 to US 20, and then took some local routes (S45, D41, S55) to Iowa 175, through Eldora to Iowa 14 to Marshalltown and further south to US 30, and then Iowa 146 to Grinnell. From Grinnell I took US 6 to US 151 to Cedar Rapids and Dubuque.

Illinois: From East Dubuque, Illinois, I took US 20 through Galena and Illinois 84, which has a few good Mississippi River views, to Savanna, where I found Arnold's Bicycle Repair, right downtown, where they tightened a loose pedal axle for free. Then I took Illinois 64 across the entire state; it's called "Chicago Avenue" in Savanna but becomes North Avenue in Chicago. As a method of entering Chicago, I would not recommend it from the point of view of safety or simple pleasures. The 'burbs start about 9 miles west of St. Charles, and are almost continuous for the next 40 miles or so, offering the usual horrendous mix of pretentiously oversized houses, parking lots, strip malls and enclosed malls. Worse, there are many sections with no shoulder but very heavy traffic, sometimes three lanes in each direction, and there's a brief section where you're almost on an expressway in Chicago itself. I'd avoid taking it again as a way of entering Chicago (you can switch to Roosevelt Road in St. Charles), but I thought it was amazing to experience, and was glad I took it this time: never have I felt the awfulness of sprawl so fully, something you can only really feel by bike or on foot. And downtown St. Charles looked worth a stop, though I didn't have time for it on this trip.
---
Home Film My Art Art Other: (Travel, Rants, Obits) Links About Contact